---
Jay Lang grew up on the ocean, splitting her time between Read Island and Vancouver Island before moving to Vancouver to work as a TV, film and commercial actress. Eventually she left the industry for a quieter life on a live-a-board boat, where she worked as a clothing designer for rock bands. Five years later she moved to Abbotsford to attend university. There, she fell in love with creative writing. Hush is her first published novel. She spends her days hiking and drawing inspiration for her writing from nature.
Click the book covers to purchase Jay's Lesbian Thrillers.
---
It's bad enough that Emma Porter lives alone with her mental illness. But things take a turn for the worse when her ex invites her to his book signing - for a best-seller whose plot she claims he stole from her - and on the way home she almost hits a woman with her car.
Star Marlowe. Beautiful. Fearless. Wild. Three things Emma is not. Emma is swept up in a new life of reckless adventure. She's happy and validated for the first time in years. But when Star exhibits more and more dangerous behavior, Emma starts to pull away.
Then, she gets a call: her ex has gone missing.
Emma thinks Star is behind it. The police think otherwise. Emma is arrested and confined to a psychiatric ward for a crime she didn't commit. No one believes her. What's worse, no one believes that Star is real. Desperate, Emma breaks out, determined to vindicate herself by finding the woman responsible – a woman who doesn't seem to exist at all.
---
After six months away, Jenna Malone returns home to Horseshoe Bay to find the quiet village in turmoil over a recent, grizzly murder on a local trail. Things only get worse when she reconnects with her best friend, Rain, and learns that he has wandered down a dangerous path. He has two months to pay a debt he isn't responsible for. If he fails, he'll meet the same fate as the man on the trail. Gia, a beautiful woman with a similar debt, is assigned by loan sharks to keep an eye on Rain. As the situation for Rain grows dire, a deep passion blossoms between Gia and Jenna.
With the deadline approaching fast, the two women devise a plan to outmaneuver the loan sharks. However, the plan collapses when an unexpected truth turns Jenna's world upside down. In a final, desperate moment, Jenna must make a choice—a choice that decides the fate of the person she has come to love.
---
After taki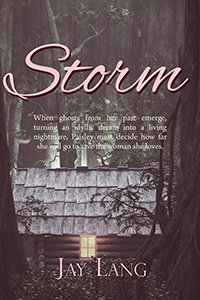 ng the fall for her former lover, Paisley Stewart comes out of a stint in prison only to stay in another: her childhood home on Vancouver Island, where memories of her homophobic childhood linger. To her relief, her parents plan to vacation in Florida for part of the summer, leaving her to take care of the rental cabins. However, the relief is short-lived. She has a co-landlord: the know-it-all Ivy Logan, a family friend and childhood enemy. Little do they realize that their friction is setting off sparks, and a summer romance blooms.
However, their happiness doesn't last. Ghosts from Paisley's past emerge, and what was once an idyllic dream becomes a living nightmare. The girls find themselves in a desperate fight for their lives, and Paisley must decide—how far will she go to save the woman she loves?
---
Jules Gordon has spent the past fourteen years as a recluse after her mother was brutally murdered and her father framed for the crime. Things seem to improve after she accepts a job as a private investigator for a local firm where she meets the enigmatic Katie, and a passionate romance develops. However, just as Jules' life starts to show promise, she receives a call from a parole officer who tells her that her father is being released from prison. Apprehensive, Jules lets her father move in. Her father, now terminally ill, divulges the name of the man who framed him. In a twist of fate, while investigating her first case, Jules believes that she's stumbled on the trail of her mother's murderer.
As Jules slowly unravels the truth, her pursuit for retribution turns deadly. A game of cat and mouse leads her deep into the underworld, and she realizes that she has been played for a fool as she stares into the eyes of the true killer
---
Jade Banks thinks she has finally found happiness. A home on a beautiful little island, and a good woman, Annie, by her side. But that all changes when her father dies and leaves her brother, Denny, in charge of the family fortune—a brother Jade knows is seeking to destroy her. After a night away, Jade returns home to find Annie hurt. A short time later, a body is found in the bay. Over a hellish few weeks, Jade is caught up in a police investigation while her insecurities and paranoia push Annie away. With the intention of restoring peace to their lives, Jade gathers clues that point to the murderer. However, she is not prepared for the shocking truth revealed by a shotgun blast that echoes over the bay.