Although she was born and educated on the south coast of England, life choices have gradually moved Sheila Claydon northwards across the UK. At present she is lucky enough to live on a stunning stretch of unspoiled coastline in the northwest of England where she finds walking her dog an enjoyable counterweight to the sedentary life of a writer.
Interspersed with her writing is a long and varied career in health, education and employment. This has mostly involved working to improve standards and opportunities for children, people with disabilities, and older people, and she likes to think she is a better writer because of those experiences. She also admits that a few of her heavily disguised characters are based on people she has worked with in the past.
A prize-winning poet, she has tutored children in partnership with the UK's 'Poetry in Schools' programme, and also worked with creative writing groups, and organized and run writing workshops.
http://sheilaclaydonwriter.com
To purchase Sheila's books click the book covers
---
How is Ellie going to find a job without a reference? How long can she survive without a home? How can she ever trust a man again?
Fortunately, the village of Mapleby is waiting for her, and so are the people who lived there in the thirteenth century. So is Will, and together they make a heartrending journey that uncovers their past as well as their future.
---
A head teacher trying to escape from a tragic past, two sons about to hit puberty, a five-year-old girl who talks to a ghost, and the unwelcome reappearance of her ex. These are just a few of the things single mother Millie Carter has to cope with. But with no qualifications, no prospects and her self-confidence at an all-time low, she isn't sure she is up to it until help comes from an unexpected source.
---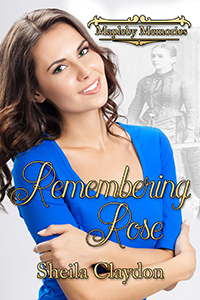 Rachel has a husband who adores her, a beautiful baby daughter, and an extended family she can rely on, so why isn't she happy? She doesn't know and nor do the people who love her. Only Rose understands but she is trapped in another century. To help Rachel she has to breach the boundaries of time itself as well as risk exposing the truth of her own past.

When echoes from that past begin to affect other people in the village of Mapleby, things suddenly become a lot more complicated. Can Rachel put things right without giving away Rose's secret?
---
WHEN PATHS MEET BOOK 1 - CLICK HERE TO PURCHASE
When musician Marcus Lewis buys the derelict farmhouse next to Jodie' Eriksson's riding school he doesn't know whether to be amused or irritated by her angry reaction to his plans. Then her sister Izzie visits him and makes things a whole lot worse…or is it better…because now he has an excuse to see Jodie again. Although, when he sees her, it's not exactly a meeting of minds, they do discover they have one thing in common; they both believe they know what's best for Izzie, and for Marcus' son Luke.
It turns out they're wrong. The children they thought they were protecting need to be set free. It's Jodie and Marcus who have the problem; but can two broken hearts make one whole one? The battle lines that were set when they first met have long since been breached but the war won't be over until Jodie learns how to trust again, and until Marcus allows himself to believe in his son.
---
WHEN PATHS MEET BOOK 2 CLICK HERE TO PURCHASE
International super-stardom is more than Izzie ever expected to achieve so why isn't she happy?

Jack Corley thought he had escaped his heritage until a family tragedy brought him home to deal with debts, squabbles and a crumbling ancestral home.

Will they find a way to resolve their problems and achieve the peace and happiness they both crave, or will pride and money get in the way?

Review:
Sheila Claydon's novel, Pathway to Tomorrow, is a wonderful book about two people deserving of happiness. Claydon writes brilliantly, creating characters we can't help but care about…. Her secondary characters are also terrific and enrich a worthwhile read. Highly recommended. Readwrite – Amazon 5 star review
---
WHEN PATHS MEET BOOK 3 - CLICK HERE TO PURCHASE
Katy was used to losing things. First she'd lost her childhood home, then her career and reputation, and finally, and most dreadfully, her identity, so she knew she should be used to it. She wasn't though and she couldn't bear the thought of having to leave her job and start over, not now she was beginning to make a new life for herself. On the other hand she wasn't prepared to play second fiddle to her boss's girlfriend. Thank goodness she'd found out what he was really like before it was too late…or had she?
---
Powered by 4goodhosting.com