Frank Talaber was born in Beaverlodge, Alberta, where the claim to fame is a fox with flashing eyes in the only pub, yeah, big place, that's why his family left when he was knee high to a grasshopper and moved to Edmonton, Alberta. Eventually he got tired of ten months of winter and two of bad slush and moved to Chilliwack, BC. Great place, Cedar trees, can cut the grass nine months of the year and, oh, he says it does snow here once or twice. Just enough to have to find out what happened to the bloody snow shovel and have to use it. GRRR.
He's spent most of his life either fixing cars or managing automotive shops at fifty-six is found to be blessed now with two children (okay, he had them earlier and they've grown up and began living on their own), two loopy cats and a bonkers-mad English wife. His insatiable zest for life, the environment, and the little muses that keep twigging on his pencil won't let his writing pad stay blank.
TO PURCHASE ANY OF THESE BOOKS CLICK THE BOOK COVERS FOR LINKS TO YOUR FAVORITE BOOK SHOPS
---
Undercover at Victoria's Empress Hotel, police detective Carol Ainsworth has to deal with two American Mafia cartels coming in for a wedding. Easy-peasy, everyone has a lovely cup of tea, says their 'I Do's' and goes away happy. Or so it seems until young boys start disappearing, a crazy old psychic woman shows up bearing a crystal skull and one of the mobsters is found hanged in his room by what appears to be a ghost. Carol quickly discovers that Victoria has several satanic cults, more resident ghosts than all of Canada and something is rattling their chains.
Toss in a hunky FBI agent, a hunkier Italian mobster, both of which want to investigate more of Carol than she is willing to reveal and you've one threesome that is going to raise some hell. Literally.
Speaking of unwanted hellions being invited to town, and I'm not talking the red-headed whip-wielding dominatrix that shows up, there is one guest that generates more heat than a habanero-infused curry.
Come visit Victoria. No longer the staid, stiff-upper-lip, more-English-than-the-English town of fish and chips. Stick around while the tea is hot, the ghosts are walking and - did I mention? - the scones are pretty darn good as well.
Editorial Reviews
I've read and reread his previous series, Stillwaters Run Deep, several times. Frank's writing is original and compelling. You run into characters and situations totally unexpected. Keeps you on the edge of your seat and your heart. Greta Olsson
Your book kept my attention riveted from beginning to end. I liked the way you presented the female character being in control of the outcome and the fact the story was based on local settings. i.e. Victoria, B.C. Canada Keep up the good work ..... Linda Low
---
What if a native legend came back to life and was saddened by the destruction of his people, their culture and their environment?

What if that legend was the Haida creator god Raven and he spirited away the girl you were falling in love with?
What if you didn't believe in native spiritualism and found yourself battling Raven with only a shaman to help you?

Inspired by true events that took place on the Queen Charlotte Islands, Raven's Lament centers on a journalist who investigates a killing tied into the destruction of old-growth forest and becomes tangled up in a spirit war. He finds love and meaning as he encounters a centuries-old Haida prince, formerly imprisoned along with Raven in a rare Golden Spruce tree.

"After being stranded twenty kilometers from the nearest road at the tip of Rose Spit, Haida Gwaii, and having to push his spanking new SUV a few kilometers along the beach before the tide came in and we ran out of booze, my first reaction on being asked to write a back cover blurb was, "over my dead body." Some people will do anything to get an endorsement." Susan Musgrave
---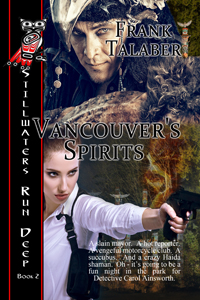 Vancouver's mayor is brutally slain in Stanley Park. His family is missing, no clues. So begins Carol's first big detective case.

Toss in a hot male reporter. Vengeful bikers, a sexually starved succubus, a boatload of out of sync demi-gods and a disappearing shaman who holds all the clues.

Oh, it's going to be a fun night in the park.

If Charles de Lint's Greenmantle or Moonheart grabs you, you'll not be able to put down Frank Talaber's Vancouver's Spirits.
Review By Robert Winslow. A refreshing change from the usual and all too familiar cast of deities and spirits. Talaber pulls his characters from the vast and untapped riches of aboriginal myth and legend, bringing to life their intricate stories largely unfamiliar to wider audiences. He intertwines their ancient tales with the dark, gritty and dangerous under belly of contemporary urban life. The whole makes for an interesting and compelling read with an ending that's impossible to predict.
---
Agatha Christie, roll over in your grave, new sleuths on the prowl. Haida shaman Charlie Stillwaters convinces Carol Ainsworth, a Vancouver detective, to join him as he breaks his way into a high security prison.

The duo are determined to find out who killed the previous native elder before all lightning and thunder breaks loose. They encounter deranged inmates, mystical beings, ancient serpents, wood sprites and someone who should have been dead long ago.

Not your usual crime/mystery!
Not your usual criminal investigators!
You thought Jack Nicholson was mad in The Shining…
Wait until you meet Charlie Stillwaters in the Sweat lodge.

Reviews
There are many aspects true to First Nation's beliefs. For example the transformation of animals and anomalies within our realm. Frank Talaber's writing is clear and concise, leaving no grey areas. But his true talent as a writer is not only a sense of time, history and capturing First Nation's humor, but going from the real to the surreal and the supernatural. A gift he plies very well.
Tom Patterson
Nuu-Cha-Nulth Artist and Master Carver

Just when I was beginning to wonder where the next great Canadian story teller would emerge from, Frank Talaber has written a modern crime mystery with a twist. In "Thunderbird's Wake" Talaber weaves the richness of Canada's west coast aboriginal spirituality into the science of modern forensics. CSI comes to Haida Gwaii as the shaman and the detective conduct an investigation that will take them and the reader on a journey to a place where murder, redemption and ancient mysticism intersect.
Michael G de Jong, QC
Minister of Finance, Government House Leader,
Province of British Columbia
---
He only wanted to steal her company. She only wanted Not to fall in love with him. Both had dark secrets they didn't want revealed.

All Roy wanted to do was seduce Julia-Rae and convince her to sell him her company. Julia-Rae wanted to shut him out of her heart like every other man that got close. Only what do you do when you fall in madly in love with the enemy and the enemy with you. Will the dark secrets they hold tear you apart?
Review, Janet Lane Walters...Great romance. Spicy with both hero and heroine fighting the attraction. She's an independent woman who loves being in charge of her own magazine and running things the way she wants. He wants to gain her magazine for the group of travel ones he heads. From their first meeting in Peru sparks fly between them.
Save