New Releases for April
Maryland plantation heiress Ursula Martin is content with her secluded life in a convent. Until the bloodiest day of the Civil War brings a downed soldier into her care.
Blinded Rowan Buckley only knows he's in deep love with the woman who pulled him off the battlefield. His superiors claim she's a spy. He knows she's full of secrets, but he's out to prove that treason is not one of them.
The two negotiate the crucial times of the Battle of Antietam, Gettysburg, and the New York City Draft Riots. Treachery meets them at every crossroad. Will their love survive?
---
Lady Sophie Harrington is not one to abide by society's strictures. If there's one thing she knows, it's that she will not be paraded on the London marriage market in hopes of finding a suitable husband. When a handsome bachelor moves into the neighboring country estate, she thinks her wedding woes are solved - all she has to do is make the man fall in love with her and convince her parents he would make a good match.
Successful barrister Lord Bryce Langdon escapes London to begin a new legal practice in the idylls of Cornwall. However, being the object of desire for two beautiful sisters disrupts his life and distracts him from his true purpose for being there – infiltrate a local smuggler's ring.
Can Sophie win Bryce's love? What will she do when she discovers Bryce is not the honorable man he appears to be?
---
Fire Captain Gerry Ormond is launched to national prominence and receives the prestigious Governor General's Medal of Valor. He visits his hometown after a twenty-year absence and unwittingly unleashes a killer--a vengeful arsonist with ties to an old murder and theft of a Philippine treasure by a teenage fraternity. Gerry was one of the frat members.
Karen, his high school sweetheart, ignites a dangerous obsession. Her husband looks good for a recent arson/murder. Nick Modano, ex-fraternity president, now ruthless drug dealer, is the only other participant in the old crime. Nick never forgets or forgives Gerry for running out on him during their old crime.
Samantha 'Sam' Markham, a crack fire investigator, begins to hound Gerry, believing his past is connected to the present crime wave. For Gerry, the almost forgotten past has risen from the ooze and taken on a life of its own. As a man used to chaos control, he is powerless to close the door to his evil past and haunted by a fire dream. Confessing his old crime will help track down the arsonist but it could destroy him. It's a tightrope he walks in a town where old friends are now enemies.
---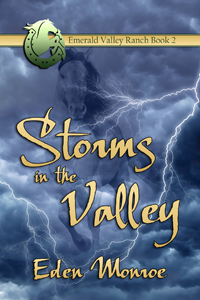 Martin Parker is a very happily married man, so when his first love, Diane Branden, blows back into town – still a force to be reckoned with – he is not prepared for the fallout. Drawn unwittingly into her carefully spun web, upheaval quickly follows as his world immediately begins to skid sideways.
Newlyweds Kane and Jessica Davidson also feel the roll of thunder as storm clouds continue to gather menacingly over Emerald Valley, heralding a season of trial, turbulence and challenges in this suspense-filled emotional drama.
Storms in the Valley is a cautionary tale, a grim reminder that nothing in life should be taken for granted, and to never underestimate the enduring power of love, personal strength – or trust.
---
Mariah, a widow struggling to raise her three children on a small farm in Midwestern Canada in the '30s, is determined to succeed alone. She works hard, along with her two young sons, Jonathan and Seth. Nellie Lynn, her little girl, also helps out when she's not busy dressing the family hound dog in doll clothes. Each night, Mariah talks to her dead husband's picture, and tells him no one can ever take his place. No one, that is, until a weary traveler shows up at her gate for a cool drink, and makes the devastating mistake of letting his shirt fall open..
---
APRIL SPRING FLING CONTEST
CONTEST ENTRY FORM WILL BE ADDED APRIL 1
Click this blog link https://bwlauthors.blogspot.com/ which will take you to our BWL Authors Insider Blog, once there look for any one of the articles that have been posted in the past few months and write down the Title of one of the previous Blog Posts.. Return to this page and enter the title of any of the recent Blogspot features in the Contest Entry Form which will be Added April 1st, along with your name, email address and province/country of residence and you will be entered in our April Spring Fling. Prizes that require mailing can only be awarded to residents of USA and Canada, however, International entries will receive a comparable value online gift card.
WIN an Easter Basket filled with goodies
AND, a book basket filled with these six fantasy/science fiction eBooks
---